SanDisk 'Mobile ki Pendrive'.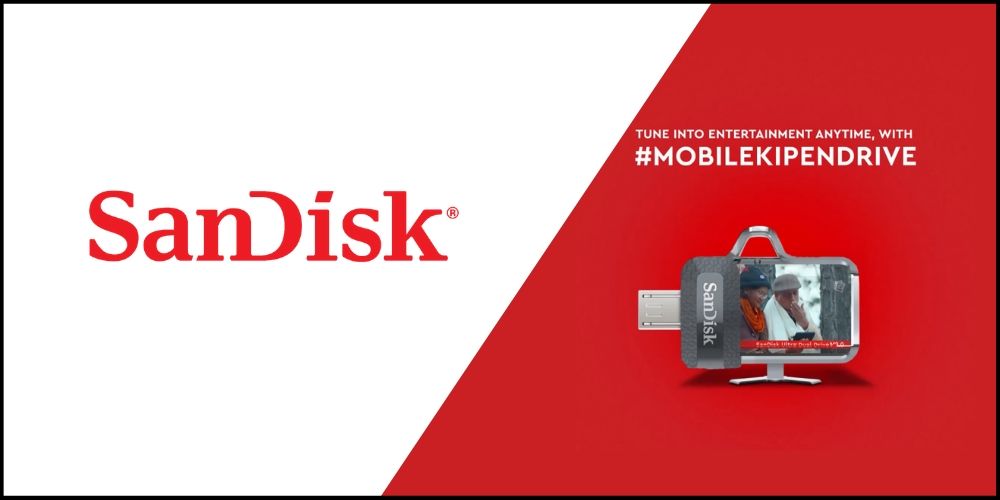 In a series of content marketing case studies done on ScoopWhoop by various consumer brands, we feature SanDisk's campaign where they introduced their audiences about a new way of data transfer #MobilekiPendrive.
When everything in life is happening at a fast pace, why does Data Transfer have to be so slow? SanDisk added another product to its portfolio called SanDisk Dual Drive m3.0 a.k.a Mobile Ki Pendrive. With an all-new way of transferring data and making life easy and fast, FoxyMoron, the Digital agency on record for SanDisk India launched a 360 campaign for the product.
The objective of the campaign:
Campaign's objective was to create awareness about Dual Drive using one 60 seconds video asset and optimize it to resonate with the target audience i.e 18-34-year-olds from Sec B/B+ using Android smartphones under Rs. 15,000 pan India.
Content and Strategy Implementation
The campaign conceived Mobile Ki Pendrive as a simple and powerful drive that is already ready to transfer content on the go. The challenge was that the entire story needed to be communicated through an existing video asset. To ensure maximum product visibility and brand recall, Foxy decided to create a 20-second edit and 6-second edit of the existing video and got the brand whitelisted for YouTube's 20 seconds Non-skippable ad inventory.
To drive efficiency and sharper media allocation, they ran a test campaign across platforms to understand the various cohorts, however, they could not draw any inferences because it was a NON-SKIPPABLE inventory. Thus, they decided to make use of their exclusive Video Intelligence Tool, that tests with over 400 different variables, to help them analyse which cohort is resonating with the video the most. 
The biggest challenge was to optimise the main NON-SKIPPABLE campaign and, the Industry first tool came to the rescue which helped them optimize the campaign on the go. They leveraged the tools' insights to facilitate ongoing optimization and kept switching our budgets dynamically to each cohort depending on the current performance & future potential. The tool also helped them understand that the video should be promoted only on weekdays and not on weekends. The video edits were further dubbed into 5 languages and the tool helped to understand the best performing languages and thus, resonance with the audience.
Impact –
The idea MobileKiPendrive brought major audience involvement with the help of a 360-degree campaign. Social Media Content, Influencer collaborations and other similar content were pushed through other social media platforms.
The brand achieved 2x more impressions than expected and 4x more clicks than estimated at a CPM of INR 170 which was 58% lower than estimated CPM along with 1.5x more video views.

Outcome –
The brand reached almost 67 million people with this campaign. The search results for Mobile Ki Pendrive grew 3x.
The video started a lot of conversations regarding the brand which further helped in establishing the recall value of Mobile Ki Pendrive.