In Conversation with Santosh Mishra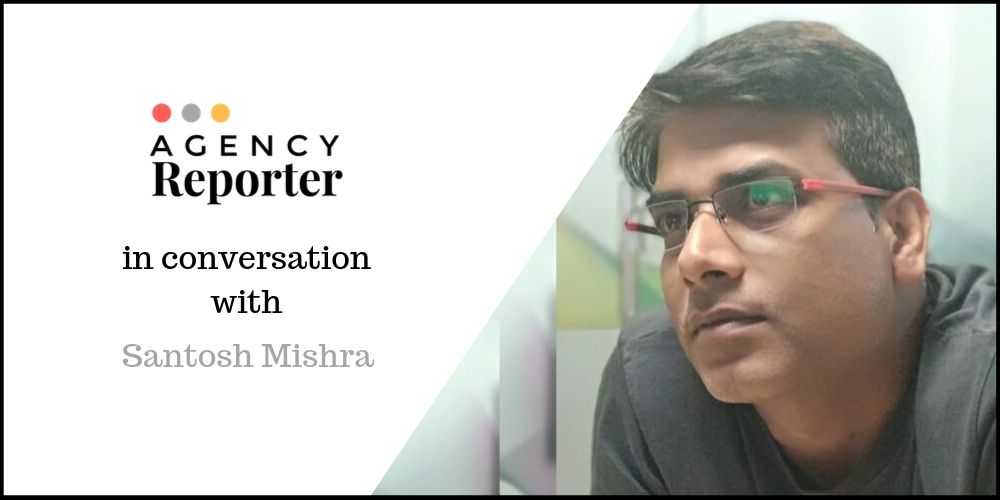 In our conversation with Santosh Mishra, Branch Head – North, iProspect India, he speaks about the role that clients are playing in letting the agency come up with bold and smart campaigns, how the agency is coping up with this dynamic market and industry shift and how digital and big data will transform advertising in the coming years.
Q. iProspect has been in a spree of winning accounts across markets and we saw some big wins in the North recently. How's the mood of the team and what do you feel has led to this feat?
A. Yes, across geographies (West and South), we have seen similar feats, and I believe that the mood has been upbeat, which has led to the account wins rather than the other way around. At iProspect, the mood has always been upbeat and winning accounts is just a reflection of that alongside a deep understanding of the digital landscape by the team. We have seen in the past and even today that some market players usually go for 'one solution fits all' approach which according to me is far from reality. Today, even within the same industry, consumers react to different brands differently; and we have been able to showcase this understanding to all our clients. This is the reason why they partner with us in their growth plan.
Q. In today's scenario, what role are clients playing in letting the agency come up with bold and smart campaigns?
A. Agencies need to have a strong understanding of the client's marketing objective, the KPIs (Key Performance Indicator) that are essential for the client, and the understanding of the role of media to achieve those. As long as this is in place, I have always found our clients to be open to ideas that are bold and innovative. It's never either this or that. It's the true partnership between agencies and clients which always bring about the desired result. Both parties must have their skin in the game to deliver value.
Q. Brand marketers have warmed up to 'in-house' of late. Should agencies be worried?
A. I'd argue that. Despite the current appetite of in-housing, agencies are becoming more important than ever for best-in-class biddable media and deliver stuff that the clients can't do better themselves. If agencies shift towards what clients need, there's no reason for in-house to be seen as a threat to the livelihood of agencies (Uber and self-owned cars can co-exist). I'm excited by the prospect of a more well-defined relationship between advertisers and agencies. If the role of an agent is to serve the interests of its client, then the service model of the future will surely be a great step forward in achieving that. Agencies do what they do best by developing bespoke methodologies and tech stacks for clients to best respond to challenge, automate repetitive or humanly impossible tasks and continuously optimize. They have better access to support from certain advertising platforms, are quicker to adapt to platform updates and are more flexible for testing. Just to emphasize, DAN has been investing heavily on its enterprise tools which are also being exported to other markets. We, at iProspect, also have created some noteworthy solutions (tools) for our clients. To name a few, we have developed iCapture, iCreative, Intelligent Content to provide holistic solutions to our partners.
Q. The advertising game is changing and keeping up with the dynamic market is a new challenge altogether. How is iProspect coping up with this industry shift?
A. The internet is flooded with predictions on where the digital landscape is headed, and it's reassuring to know that innovation and forward-thinking is a core pillar of iProspect's operational focus. Rising consumer expectations are a given, and we must accept that media advertising alone is no longer the main manifestation of our client's desire – instead, we must focus our efforts on the increased emphasis of behavioural and audience-led data and promote personalized interactions to engage the end consumer. For example, we all know that voice search is only going to get bigger and there are already enough voice searches happening today. Anticipating this trend, iProspect has already built voice capabilities and the same has been percolated to all the markets.
Q. How according to you will digital and big data transform advertising in the coming years?
A. Today, our every move on the internet is trackable. We generate tons of data every second through our Facebook page visits, videos watched, likes, comments, tweets, search history and so on that is captured in the databases. This data is analogous to insights on our interests, current needs or responses to certain products already purchased. Enterprises seek such data for higher customer acquisition and retention by targeted delivery of promotional content for their products and services. This means, now there is a higher demand for data processing and storage tools that is at the core of the big data technologies. The only challenge is that not many companies yet, have the setup or trained professionals to mine and manage such data. These professionals should also be able to identify possible areas and audiences for impact.
Q. How do you see the future of iProspect? Will it be a digital agency or there is more to it that you think?
A. BRIGHT is the word that comes to my mind. Over the years, iProspect has been awarded #1 performance agency globally by RECMA as well as has many accolades at various industry events. I would like to quote my CEO, Rubeena Singh, here, who believes that iProspect must act like a "Sherpa" walking alongside the summit with our clients. In short, roll up our sleeves and solve our clients' marketing problem.