In Conversation with Siddharth Dabhade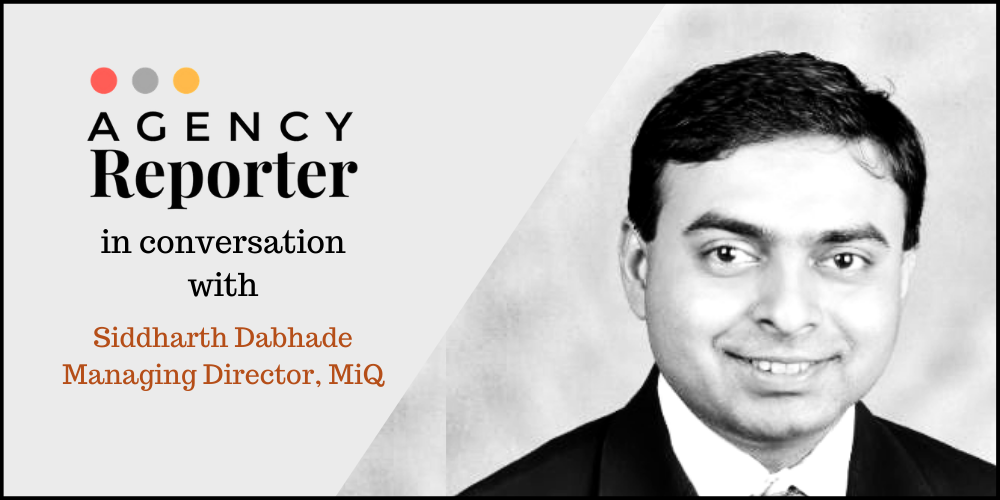 In our conversation with Siddharth Dabhade, Managing Director of MiQ, a global analytics technology & market intelligence company, he talks about MiQ offerings in India, their unique strengths and gives his views on post COVID-19 scenario.
Agency Reporter – MiQ India operated as a Data Analytics Centre from Bangalore and served offices in other countries after its launch in 2012. Towards the end of 2018 a new MiQ entity was formed in India which we believe was to start selling its media, analytics and tech solutions to the Indian Market. Why did the company choose to start its sales operations in India only now?
Siddharth Dabhade – We're headquartered in London, where we were founded in 2010 by Lee Puri and Gurman Hundal. Over the last ten years, we've grown across the world with 18 commercial offices across North America, Europe and Asia Pacific. But our Centre of Excellence in Bengaluru has always been at the heart of our business since 2012. It's been pivotal to our global growth – and in 2020 we saw an opportunity to make it part of our strategy for commercial expansion in the Asia Pacific region.
MiQ looks at having a very strong strategy for localization. Once MiQ localized its solutions for India, we launched the commercial operations for India.
For localization – we have partnered with India centric audience data providers and location providers. We also have access to TV data mapped for India which can help Brands optimize their media mix. Our Bangalore centre of excellence for data science is also geared towards helping agencies and clients in India to help solve India market related problems with an integrated analytics, India data, tech and media approach. There is a lot more actually, I am highlighting some key localization strategies.
AR – Can you give us more information about MiQ's offerings in India and on how the team is structured?
SD – 5 pillars of MiQ's offerings in India are
Advance Google DV 360 skills with Ads Data Hub capability
Real time proximity targeting, footfall measurement and location profiling (Online + Offline – attribution and single view of consumer)
Analytics with 3rd party audience data integration for consumer profiling and Targeting
Brand impact studies, incrementality analytics
Connected TV solution basis mobile audiences and OTT reach
With the above for our India clients we combine real-world and digital data through tech and applying deep analytics to create insights. These actionable insights are then applied to DSP media campaigns and combined with world class servicing to help Brands win big.
We also help Brands to understand the campaign impact with Brand studies and incrementality studies.
AR – These days, digital ad spends account for a big part of a brand's marketing budget. However, marketers still look for things like transparency, measurability, common metrics etc. These all should have been in place by now, but it seems it's going to take some more time. Why are media owners not making considerable efforts to help marketers? Do you have solutions to help brands in these areas?
SD – At MiQ, transparency means giving our clients numbers and costs relating to their investment, ad verification, brand safety, inventory quality and viewability, but also working closely with our clients at every stage of a campaign so they can see our approach and the strategies we are using to reach their end prospects.
We are globally TAG certified and Independently vetted by ABC – ad fraud is a subject we care deeply about.
MiQ powered by its data science capabilities and focus on programmatic is helping clients attain measurability with common metrics, implement advance attribution methods and do incrementality studies.
A key strategy in the area of measurability is Incrementality measurement, also referred to as "uplift modeling" or "incremental sales lift," refers to the measurement of a single variable – in this case ad exposure – on a consumer's behavior (in this case, the desired outcome). Incrementality measurement allows marketers to answer the question "what would my outcomes look like without advertising?" to develop a baseline understanding of the impact that their marketing is having.
As an example – a prominent Direct-To-Consumer retailer with a laser-focus on performance partnered with MiQ to determine the value of their TV and display campaigns. The retailer wanted to run two advanced display campaigns, one complementing their own TV media plan, and one for conquesting of their competitor's TV spend. Using data from TV advertising feeds, MiQ was able to combine exposure data from TV viewing for the brand's ads with digital display exposure to build a control and exposed group based on exposure to each.
Disrupt – designed to tap into conquesting opportunities, was triggered when a competitor ad was aired based on data tapped into by MiQ. 2 Support – designed to extend the impact opportunity beyond TV, was triggered when their own ads were shown.
Both campaign strategies drove positive conversion rates for the brand and both were validated as driving incremental lift, and results were particularly promising for the conquesting campaign.
Campaign delivered 47% incremental lift in sales for the conquesting strategy and 39% incremental lift in sales for support strategy.
AR – MiQ works with some of the top brands globally. How you planning to leverage that for Indian clientele? Do talk about MiQ's strengths that can help your clients in unique ways.
SD – MiQ works with thousands of clients partners in partnership with agencies. Many of these global Brands are also in India. Key verticals included as part of our global relationships are FMCG, BFSI, Telco, Auto, Gaming, Online education, retail, Healthcare, eCommerce, Media & Travel.
MiQ has more than 10 years of experience in solving clients problems by its focus on data enrichment, analytics and actionable insights. MiQ in India in particular is helping Brands understand their first party data and enrich with third party to have rich consumer profile and basis the understanding have a customized strategy for the Brand. These actionable insights are used in DSP environments along with world class servicing to help clients drive sales, revenue, cost per acquisition metrics, Brand impact and also helping with business strategy.
AR – How deep does your understanding of data go regarding brand campaigns? What kind of understanding can MiQ provide to marketers and at what stages?
SD – Our connective technology sits on top of data sets, insights capabilities, and activation platforms. Our agnostic approach means our clients can onboard data and activate across multiple DSPs and channels all accessible through MiQ.
We do all this with a process we call Marketing Intelligence:
We connect vast quantities of data from multiple sources
We discover the insights that mean we can target, test and trade more effectively, and pass on valuable information to our clients about their prospects
Then we action those insights in high-performing media campaigns across all the platforms
For India these capabilities include –
Audience analytics with audience partnerships with Eyeota, Zeotap and so on.
Location insights in partnership with Lifesight and real time proximity targeting capabilities.
Take macro signals like – weather, social trends, financial trends, TV signals to optimize and time campaigns.
Combination of micro and macro data signals for optimal configuration of campaigns.
AR – Digital media is the biggest gainer during lockdown, in terms of adding new audience. Do you think it's a big opportunity for Marketers to identify, learn and sell – to this set of audience? Is the new audience number sizeable enough to be able to help media score bigger revenue numbers?
SD – Digital media is already more than 50% of overall media share in many markets. It is a secular trend. With Covid no doubt, digitization will accelerate further. A big reason of digital media growing is because with programmatic different digital media can be consolidated and single customer view can be created. Linear TV which is the biggest media channel is fast moving into digital way of consumption of OTTs and Smart TV. This audience size is already very significant and with TV viewing habits shifting it is going to be the largest.
MiQ through programmatic and with its data approach is able to access 500 million consumers digital and real world behaviour in India. And in next 2 to 3 years, programmatic will have a reach of 750 million consumers in India which is by any means a significant reach in benchmark with any other medium. And on top of it, with digital targeting is in a more granular way and more measurable as well.
AR – Finally, according to you what will be industry's top 3 #NewNormal trends that are going to stay for much longer?
SD – Connected TV – TV content is moving to internet with its on demand promise. This is going to make digital and connected TV as one of the largest media channel.
Omnichannel & Cookieless – Contextual targeting is the obvious low-hanging fruit. But digital out of home, mobile, connected TV, and audio are all growing steadily to become the biggest channels for programmatic investment – and they also all happen to be cookieless. Our clients are already catching on – we've seen advanced contextual buying grow as a proportion of activation compared to audience buying in the last 12 months, and mobile has also grown considerably compared to display.
Insights lead marketing – Media planning will be underpinned by analytics and data science inputs. Only strategies backed by relevant and strong insights will be able to deliver.