In Conversation with Rana Barua and Venu Ganganna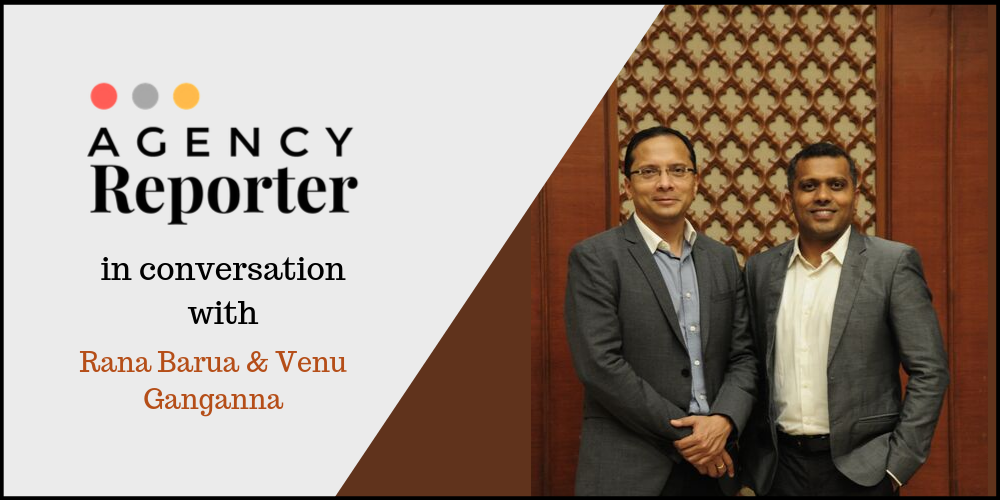 We caught up with Rana Barua, CEO, Havas Group India and Venu Ganganna, Chief Digital Officer, Havas Group India and CEO, Langoor Havas, to discuss about their recent acquisition and future plans.
Rana Barua
Q. The year 2019 has seen Havas Group being pretty aggressive in the acquisitions front. It first acquired Think Design in May and Langoor Digital now. What is the reason behind such fast-paced acquisition moves?
A. Our acquisition strategy is focussed on further strengthening our offering with the right set of capabilities in sync with our culture. Our approach is distinctly not a multiplier approach but one of expertise building.
Q. In the digital age, many brands and clients are moving towards the digital sphere. Is that the reason behind the acquisition of Langoor? What made you choose Langoor over other digital agencies?
A. Langoor adds an enviable strength to Havas Group with its unique approach of Creative Technologists who challenge marketing every day with their expertise in balancing, data, technology, strategic thinking and the power of creativity.
What gave Langoor a huge edge was that they go much beyond the elementary impact of digital, but actually look at customer journeys in the digital domains. Their focus and then subsequent action is based on insights of consumer digital behaviour, which then becomes the basis contextualizing marketing strategies.
Over and above this one of the core reasons for acquisition was all about the perfect alignment of both cultures.
Q. The Havas Group already had a segment of digital media within the company. With that in mind, why did the company still acquire a digital agency within it's helm?
A. Langoor 's expertise is far different from what exists within the organisation. And as Havas Media continues to thrive and build its own definite expertise. Both are complementary to each other.
Q. With the new acquisition, a new position of the Chief Digital Officer has been created for the first time, to be headed by Venugopal Ganganna. It is a very unique position and one of a kind. Could you give us some insights about the position and its roles and responsibilities? What changes do you expect in the hierarchy/ management mix in the agency?
A. CDO's are transformation agents for any organisation keeping in mind the ever changing mediascape and the consumer. Venu – our Group CDO, will report into me and work closely with the Senior Management of Havas Group to ensure we are future ready, innovative in our approach, digitally ahead of the curve. This also further enables us to increasingly provide disruptive solutions for our clients to meet marketing challenges.
Q. With this acquisition, what are your expectations in terms of the increase in revenue percentage?
A. Havas Group becomes larger in scale and adds the right capabilities going forward for clients. We are confident, we will be able to attract more new clients with Langoor Havas, do innovative, strategic and effective work which helps build our differentiated proposition in a much stronger way in India.
Q. Digital is everywhere and it is here to stay. Having said that, where do you think India stands with its global counterparts in terms of digital transformation?
A. We are pretty much adapting the transformation with the same speed and agility like it's happening across the world. Smartphone penetration across the country and an extremely low cost of data is allowing this consumer to absorb and engage digital media and content rapidly. Which is great because it is expanding the media universe and creating new content.
---
Venu Ganganna
Q. Langoor Digital recently got acquired by Havas Group. Could you elaborate on how the acquisition came about and how is it going to help the business end of the company?
A. We challenge today's multipurpose marketers to innovate at the intersection of marketing and technology. We dare to challenge because we keep customer behaviour central to our thinking. Rejecting traditional marketing thinking we reconfigure data, creative and technology to build experiences that are for now and future.
That's exactly why we welcomed the chance to be a part of the Havas Group – to explore what's possible, and be a digital agency that the future demands, not 5 years down the line, but starting today.
When we grew to 100+ people – all the founders, Girisha Gowda, Kishore Karumbaiah, Ruchir Punjabi and I sat together and reviewed the business and agreed that it is time to initiate conversations with bigger agencies, Agencies which are looking for true "Digital first" players in India but who can also provide a larger canvas of global arenas to play. We looked at someone who has different strengths that can act as a catalyst for further growth and expansion as well as boost our existing strengths.
The strength of Havas Group (present in 100+ countries and part of French conglomerate The Vivendi Group) coupled with the focus to build meaningful brands based on music, content, gaming, creativity complements our strength in data, technology, and digital innovation, perfectly. We believe the future of marketing is all about bringing cultural transformation and we are now the only player in India who can deliver this transformation by seamlessly marrying all the pieces together.
Q. With the new acquisition, what will be the position of Langoor Digital within the Havas Group umbrella? Will the company still be autonomous in its decisions?
A. Operationally Langoor is headed by three co-founders, led by me as CEO, Kishore Karumbaiah as CCO, Girisha Gowda as COO/CFO, this structure would remain intact.
I have taken over the newly-created position of Chief Digital Officer, Havas Group India and will report into Rana Barua Havas Group CEO, while all other co-founders will report into me.
Q. Havas Group has expressed its interest in developing into a full-fledged creative content and digital solutions provider to its clients. The acquisitions are a step towards the realisation of that goal. In the light of that statement, do you as an agency fear merger with the other brands within Havas?
A. The entire premise of the acquisition is to bring together the best of services to clients. And this coming together is delivered using Village model so the fear of getting merged with other brands under Havas does not arise. The model exists and we need to add additional value to the existing operating model.
Q. With this acquisition, what are your expectations in terms of the increase in revenue percentage?
A. We have grown 30% YoY and are expected to grow at the same rate as we scale.
Q. You now will be the new Chief Digital Officer, which is a very unique position. Could you elaborate a bit on the roles and responsibilities of the same?
A. The primary responsibility is to evangelize and bring digital transformation thinking into every corner of the organization. Followed by the responsibility to bring together media, creative, data, analytics, and technology team to create new offerings, create new business opportunities and revenue streams. Lastly, to identify future trends and build digitally innovative products/services.
Q. What do you think the future holds for Havas Langoor?
A. The integration with Havas Group will add scale to the depth of our services and help us to grow even further.