In Conversation With Naarayan T V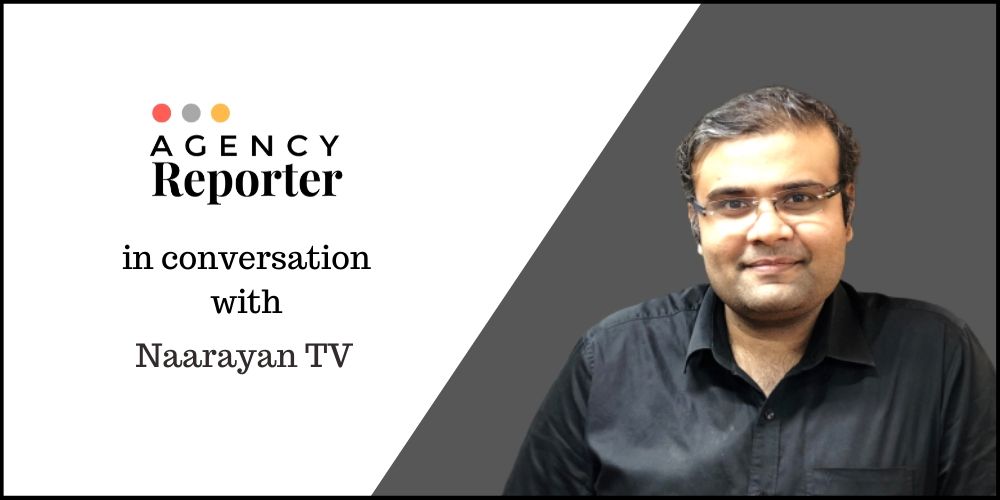 In our conversation with TV Naarayan, Head- Merchant Marketing & Digital at PayPal, he throws light on PayPal's marketing strategies and how successful the brand has been in beating cash payments. He also talks about free analytics that PayPal provides to traders and the initiatives it has been rolling out to deal with the challenge of card abandonment.
Q. Your journey with PayPal spans for nearly 2 years. How according to you is PayPal providing a secure and versatile payment method to meet the growing demand for digital entertainment?
A. PayPal is a global leader in digital payments and has been in India for close to a decade enabling small and medium businesses to leverage the global opportunity. We launched domestic operations in 2017 with a focus to leverage the opportunity to be a part of an economy that's moving towards digital consumption and offer a safe, secure and frictionless payments experience. In any business vertical, the expectation is of a seamless payment experience when users go to their favourite OTT platforms or on-demand services or even while they're engaging with their favourite gaming brands. In India, the entertainment industry itself is evolving. We see global players investing in India and their models are evolving as well. The best part about digital payments is that there's no one size that fits all. The requirements are unique for each player. In an OTT platform, the need is to lock in subscription payments that can add value to the user and the platform. The key for us is to help our partners grow. Right from a BookMyShow to a Dream11 that has the country hooked to gaming, our focus is to offer a frictionless and secure payments experience both the merchant and consumer. At PayPal, we believe that managing the risk behind payments will propel growth and hence we have launched Buyer and Seller Protection. We are the only player to manage risk for both merchants and consumers. The opportunity is huge and untapped, and we have just completed the first 100 meters of a marathon. With regulatory and Government tailwinds and our focus on frictionless payments, the road ahead promises to be exciting for us.
Q. In India, how successful has PayPal been in beating cash payments, considering cash still dominates the scene with 85% of all transactions?
A. Conversations on digital payments revolve around numbers- merchants and consumer sign-ups, app downloads etc. However, the reality is that cash continues to be kind. Having said that, I believe that Demonetization was a tectonic shift in the way people viewed digital payments. For the first time, a Kirana store in the neighbourhood started accepting payments digitally. There are two ways to look at this scenario. One lens is to look at how payments are traditionally made by customers while buying online. The other is to look at how more traditional businesses can go online. So in the normal course of things, an artist or an antique dealer in Jaipur would've sold in his neighbourhood, accepted cash and moved on. With PayPal, we can help him take his business to other parts of the country and across the globe while setting up his online store. In the process, he sets up an online payment mode with PayPal and grows with us.
One of the primary reasons why a lot of eCommerce in India is still "Cash on Delivery" is not because people aren't online savvy. You will see that people are willing to book a movie ticket online since it's convenient but would still choose "Cash on Delivery" while paying for goods/shopping. The belief is that the item delivered may not be as promised. With PayPal, our Buyer protection policy can help you claim a refund within 180 days for eligible purchases if the item is not delivered or is substantially different from what is described in the website.
Ultimately, it's about the perceived value of safety and how a brand can help with it. That's one of the ways in which we are helping customers make online payments. The honest answer is every company lead by the Government and regulator at the forefront is looking at different ways to combat cash. It is a long runway but we need to have the patience to see returns.
Q. PayPal launches different marketing activities in various channels and emphasizes that consumers can use it in different ways. Please throw light on PayPal's marketing strategies and what difference it is offering.
PayPal provides free analytics to traders about the ways consumers utilize online payments. How is this free service complementary to both PayPal and traders?
A. PayPal is available across 200 markets and hence we bring to the table our global expertise and experience and a repository of knowledge. We can amalgamate all that information to be able to help traders/businesses grow their business. We believe in a healthy ecosystem where businesses can provide the best user experience to their customers and that means more business and growth for everyone. PayPal is today accepted across 200 markets enabling transactions in 100 currencies. One of the reasons why customers across the globe love PayPal is the plethora of use cases that we're able to address. Today, if you look at a freelancer or a developer we've helped build that ecosystem in India. Whether you're on a freelancing portal seeking an assignment or a merchant with an online business, we've been able to build models and partnerships that add value.
Marketing is a total of multiple things. We look at how we can impact ease and convenience and build our strategy around that. Simply put, you can receive payments via PayPal from freelancing sites through our global/local partnerships or choose to ping someone your personalized PayPal, My link to request payments. From custom integrations on merchant websites to invoice based payments or even marketplaces, we offer merchants and consumers the power of choice. Risk and security are PayPal's key differentiators and will help unlock the opportunity in the sector. And that has been the key value proposition we have used while marketing the brand in India. We launched our first brand campaign in India in 2018 themed- "Safe Hai". Let's just say that we're making progress on a lot of fronts, right from partnerships to the product offering. We aspire to be a dominant player in both domestic and cross border international payments.
We'd like to be known as Growth enablers for businesses rather than a payment mechanism alone. By helping our merchants get free analytics, we help them get insights on what works and what doesn't and how they can grow their business. Fundamentally, every country has its nuances but largely industry verticals have the same challenges across markets and user expectations are similar. So, the challenges faced by a digital gaming company in a developed market like the US is not very different from one in India. While there are solutions available in the market, what we bring are insights from across the globe. Some of the insights include how to get ready for a big holiday season, the do's/ don'ts and how checkout experiences determine business growth, how consumers behave on mobile etc which complement our payment offering.
Q. Often, the number of people who order a product online give up on their purchase before clicking on "buy". What initiatives are you rolling out to deal with this challenge?
A. Card abandonment is one of the biggest issues faced by retailers today. A consumer makes a choice based on what experience he gets. It's experiential marketing at its best. Let's take an example. If you're looking at buying a ticket online for a movie and the seats are filling up fast, would you choose a payment option that offers a discount but compromises on the speed of closing the transaction? At PayPal, we are focused on offering a frictionless yet secure experience. Studies have shown that customers were 54% more willing to buy if PayPal was available as a Payment choice and in the US checkout rates were 82% higher with PayPal. In India, we are still early but with our One-Touch feature, shoppers can skip logging in and check out faster. We can help businesses significantly in the area of cart abandonment which is where most businesses suffer.
Q. Your competitors, Paytm & PhonePe, have been expanding aggressively, using incentives such as cashback offers to attract new customers. Why has PayPal not been able to penetrate in retail payments space that successfully?
A. We are in the first 100 meters of a marathon in the digital payments sector. 85% of transactions still happen in cash, so the opportunity is huge and untapped. In order to realise the potential of the sector, we need to have a long-term view. While cashback help consumers test the convenience of transacting digitally, repeat transactions and making digital a way of transacting will depend on the ability of players to manage the risk and scale. Digital adoption is also constrained by the fear of risk and fraud. Players need to focus on managing that. PayPal is a global leader in digital payments and in India, we have helped small and medium merchants go online and leverage the global opportunity. We want to enable MSME's to grow and become a champion for them and become an everyday partner for consumers- right from recharging his mobile to buying fashion apparel and groceries. As regards aggressive expansion on the back of incentives, we are not averse to the idea as long as that's not the only reason someone chooses you. PayPal is and will continue to be a brand that will be built on our core value proposition of safety and convenience and we want our partners to grow with us in our journey in India.