A Crash Course By Ixigo on Hotel Etiquettes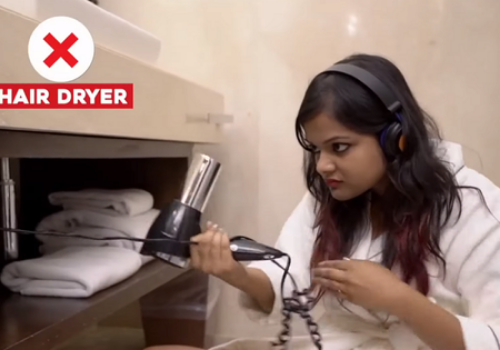 A few days ago, a video of an Indian family, stealing a truck full of things from their hotel room in Bali, turned into a web sensation. The viral video demonstrated a group being caught attempting to steal the hotel's towels, holders, hangers, decor items, blow dryers, etc.
The social media too was caught in a frenzy, retweeting and sharing the video numerous times. It also gave rise to lingering conversations and arguments from people all over the world.
Driven by these insights and social media conversations, India-based online trip specialist, Ixigo, was quick on the draw to eat a slice of entertainment. They uploaded a parody video titled, 'Stuff You Can Take from Hotels'. Featuring a lady in a shower robe, they presented a guide to hotel guests on the items they can and can not take home. For example, people have been taking home amenities like towels, sheets etc., often unknowingly.
Ixigo aimed at educating the hotel guests on the dos and don'ts when it comes to hotel amenities. For instance, one can bring home hotel's toiletry items like soaps, hair cleansers, conditioners etc. but aren't allowed to take things like hair dryer, decor items and a bunch of other stuff.
The entire video was filmed in a rather witty and quirky way. The actress was shown goofing around trying to fit everything in her suitcase. This playful crash course on hotel etiquette is definitely worth a watch.
Commenting on her idea behind the video, Shuchi Chawla, Head Brand Marketing, Ixigo, said, "Our aim with this video was not to ride on the Bali incident, but to create an educational tutorial for travellers in a fun way. This video was actually created a year back basis insights from our customers and hotel partners. Our study showed that a lot of seasoned and first time travellers are in a grey area when it comes to travel etiquette, be it at an airport, public places or hotels. Driven by these insights, we decided to educate travellers through a video. Topical and witty content captured in a casual narrative is one of the major reasons behind the virality of our 'Hotel Etiquette' video. With any campaign, our goal is always to create interesting and share-worthy content that adds value and is in sync with our brand philosophy of enriching our users' travel journey."
Further, remarking on the numbers the video garnered, she says, "In a span of 24 hours, ixigo's 'Hotel Etiquette' video became viral, garnering millions of views across major social media platforms including Twitter, Facebook, Linkedin. The video content which is relevant yet humorous was also shared countless times by people on Whatsapp groups. The brand's initial tweet featuring the video was re-tweeted nearly 3300 times and has got over 300K views. The virality of our video till now has been purely driven by organic growth minus any promotional expense. The video managed to create social as well as traditional media frenzy overseas and was trending in over 10 countries. So far it has been covered by major news publications, new age media and leading TV channels as a useful guide for travellers for their upcoming travel plans."
We also thought of mentioning some of the replies from the audience, pouring in their thoughts on the Ixigo's ad: