The Quiet Achiever – A peek into Shekhar Gupta's The Print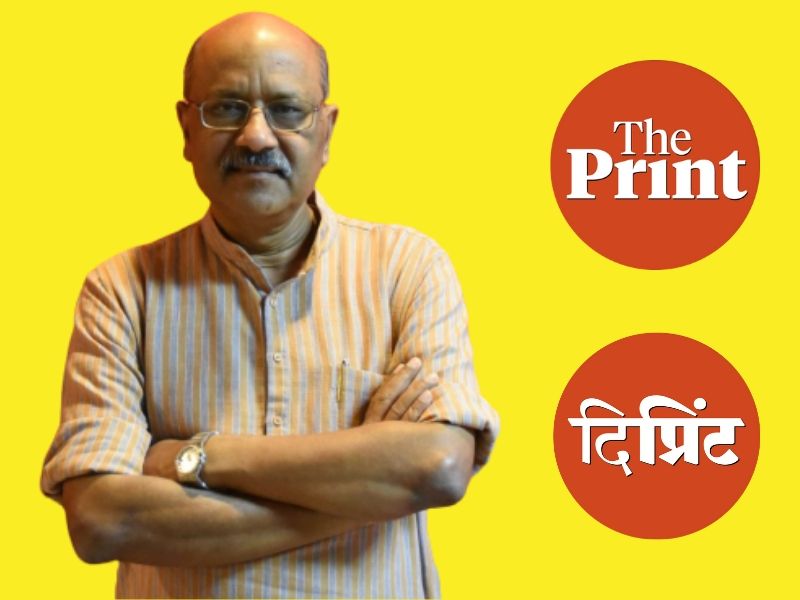 "Substance of Print, Reach of Digital".
When The Print was launched in August 2017 by veteran journalist and long time editor Shekhar Gupta, it was easy to believe that this would be one of the last memorable lines that would be remembered  from the veteran.  After all, he was 60, had spent all his time in 'legacy' print media, and had been fortunate enough to benefit  from the massive improvement in senior management media salaries in the 21st century, which should have set him up for a cushy retirement, with perhaps a sinecure with the government.  Or even a  slightly more interesting stint  as a speaker  or guest faculty across relevant institutes and institutions in India and beyond.  Shekhar Gupta as a digital winner was the last thing anyone was betting on.
After quitting Indian Express in 2014, after an almost 19 year stint, most of it as CEO and Editor, itself a novelty in India's conservative print news media establishment, there were signs that he wouldn't quite be going out so easily. That was June 2014. There followed a brief stint as a consultant with the India today group, another former employer, before he finally found himself on his own in 2015. Easy to fade away now, one would have imagined. But not Gupta. In January 2016, Gupta announced a new venture, with another ex-editor with high visibility and name recognition, Barkha Dutt, formerly of NDTV.
The Print, as they called their venture, was to be a digital only, multi lingual news firm. All good, except that there was still a twist . A few months later came news that the partnership had fallen apart and Gupta was left holding the barely months old firm. Industry insiders I met fell over themselves to write him off.
In the meantime,  peers had launched TheWire, Scroll had come up, and even TheNewsMinute was making strides.  What did Gupta do? In  July 2017, he formally announced a fund raise for The Print, with a roster of investors that was both interesting and impressive.  N.R. Narayana Murthy, Ratan Tata, Nandan Nilekani, Uday Kotak Family, Kiran Mazumdar Shaw, Bangalore-based tech entrepreneur Rajiv C. Mody, Paytm founder Vijay Shekhar Sharma, Chairman, LVMH Asia Ravi Thakran, IIFL founders Nirmal Jain, R. Venkataraman, Karan Bhagat and Yatin Shah.
The Independent and Public Spirited Media Foundation also chipped in with funding.
Industry experts estimated a total fund raise of not over 4-5 crores, as most 'angel' investments in media have turned out to be Rs 25 to 50 lacs per head typically.
Skeptics remained, pointing out that most of these investors had known Gupta as a journalist for a long time, and some had been featured on his 'walk the talk' show on NDTV, where he must have had a chance to build 'relationships'.
Well, it's been close to three years now, enough time to pass a verdict on what Shekhar Gupta has achieved. And by jove, it is something!
ThePrint today dominates over its digital only peers in the English space, when it comes to following and engagement with its audience.
Where Gupta has truly surprised, and convinced skeptics that remained, has been in the success of ThePrint's Youtube channel. While no stranger to the camera, thanks to his 600 plus walk the talk episodes on NDTV, the firm is on course to hit a million Youtube subscribers by early July.
There is a line in ThePrint's 'About us' page, written by Gupta, "there exists a wide philosophical and intellectual space that is socially and economically liberal and not doctrinaire Left or Right. A space for non-hyphenated liberalism". The million odd followers he has collected on Youtube are a testimony to his belief in his own journalism, his own methods.
Most importantly, he has done this without 'dumbing down', or recourse to the sort of entertainment staple 'mainstream' news media organisations, with vastly more resources have had to resort to.
| | | |
| --- | --- | --- |
| Name | Youtube Followers | Start Date* |
| Indian Express Online | 580K | Sep, 2011 |
| The Print** | 910K | Dec, 2015 |
| NDTV | 7.83M | May ,2006 |
| India today | 3.60M | May, 2015 |
| Times of India | 1.84M | Jan, 2013 |
| The Hindu | 475K | Apr, 2011 |
| Newslaundry | 493K | July, 2011 |
| The News Minute | 50.3K | Dec, 2013 |
| The Wire | 2.49M | July 2015 |
| The Quint | 2.42M | Nov, 2014 |
*Start date is usually different from actual date when first videos were uploaded

**Highlighted firms are new, digital only firms, unlike legacy print and TV majors
'Cut the Clutter', arguably one of the few online broadcasts with an appointment viewership everyday is the clear winner in the stable, with Gupta himself anchoring it every night, without fail. From its first episode in September 2018, which spoke about Sidhu's hug with the Pak Army Chief( dismissed as irrelevant), the government's disinvestment plans (dissed) and the Rafale deal (welcomed, with a stricture against AK Antony, the UPA defence minister), Gupta has built his followership on what, to the neutral observer, is a non partisan approach. A huge relief in these times, when news camps are so sharply divided.
What explains his success? His vast experience that he frequently calls upon, his anecdotes, and obvious deep familiarity with key political and business players? Or his ability to really simplify things for a lay person? Or even share the odd deep insight about the Indian state? (We have a doctrine of not killing the heads of separatist organisations apparently, is one I found really interesting)
Gupta's worldview, which is deeply sceptical of the bureaucracy, more interested in matters of defence than usual and a strong belief in free markets clearly resonates with an audience that is liberal, and uncomfortable with either the 'secular liberal' or 'bhakt 'camps.
His regular references to Milo Mindbender of the ancient Catch 22 , everytime he talks about government disinvestment, is the sort of eccentricity that marks him out for not adapting for a 'youth' audience.
With the numbers firmly in place, and a fair degree of audience loyalty, it is interesting to see how ThePrint will act on its third and final founding claim. That there is 'no contradiction between good journalism and the market-place'.
While the Youtube channel is finally being monetized now besides programmatic advertising on the website, those clearly won't be enough to sustain the growth or the quality. Recently , the firm followed some of its similar independent peers like thewire, thenewsminute etc by throwing open a 'subscription' page that is more a call for support. Like every place where they have followed the rest, expect the firm to get a better response here too.
Monetisation, and a team that can step in when even Gupta needs a break, are probably the last challenges before ThePrint. Watch out for how they approach those.
ThePrint's relative success has taught valuable lessons for other founders. Do what you are best at, age is just a number, and embrace change. And the rest will follow.
About the Author:

Prasanna Singh has been a long term media professional, and now runs his own renewable energy and sustainability focused firms, SaurEnergy.com and IAmrenew.com